Islam Under Scrutiny by Ex-Muslims
---
Islamic Voodoos
In previous episodes we already had short glimpses of Islamic biology. Let us examine further Allah's natural science on the creation of humans.
The Qur'an says that after the creation of Adam, Allah created us from a despicable fluid, which many tafsir writers construe as sperm. In verse 40:67 of the Qur'an Allah says that He created humans, first from dust, then from a sperm drop, then from a leech like clot, and then He caused it to be born as a child. This modality of Islamic human reproduction is repeated in several other verses, such as: 56:57‑59, 80:18‑19, 53:45‑46, 77:20, and 32:8.
In verse 56:57‑59 Allah says that He created semen and then created us from it. According to Jalalyn this refers to the sperm you (men) spill in the wombs of women. What Jalalyn means is that women play no significant role in human embryology; she is merely a receptacle of male sperm. Aware of such a blunder in the Qur'an, a few modern translators, such as Hilali and Khan, attempt to hide the truth by inserting their own interpretation inside parenthesis. Let us read verse 16:4 as translated by Hilali and Khan:
16:4. He has created man from Nutfah (mixed drops of male and female sexual discharge), then behold, this same (man) becomes an open opponent.
The most reliable exegete of the Qur'an, ibn Kathir writes that nutfah means something that is insignificant, weak and has no value. Note that this explanation of nutfah by ibn Kathir differs significantly from the opinion inserted inside parenthesis by Hilali and Khan.
Verses 23:13–14 provide more details. These verses say Allah firmly fixes the sperm in a place of rest, that is, inside a womb (also see 32:7‑8, 77:20‑21). Allah then transforms the sperm into a clot of congealed blood, and then the foetus becomes a lump, then bones, then Allah clothes the bones with flesh, then into another creature. Thereafter, Allah determines the gestation period (77:23).
In verses 75:37‑38 Allah says that He created human (this refers to Abu Jahl—ibn Abbas) from a sperm drop, then a leech-like clot, then fashioned him in due proportions.

Scientific character of the Islamic faith is
reflected in this kind of Allah's miracles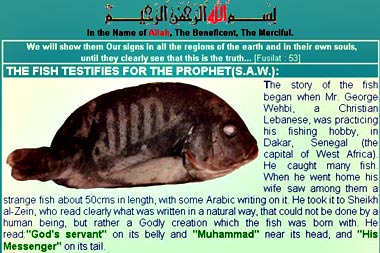 Allah confuses us further in verse 86:5‑7. Here Allah says He created human from water emitted from between the backbone and the ribs. According to Ibn Kathir this water refers to the sexual fluid that comes out bursting forth from the man and the woman; the backbone or loins of the man and the ribs of the woman, which is referring to her chest; the fluid is yellow and fine in texture. In other words, ibn Kathir maintains that just like men women also ejaculate sperm, her sperm being of yellow colour. On the context, Ibn Abbas says that these verses refer to Abu Talib, that Allah created Abu Talib from a gushing fluid into the womb of a woman. In a subsequent episode we shall read more on the Islamic 'ejaculation' of sperm' by women.
According to ibn Kathir, Allah explains the phenomenon of miscarriage in verse 22:5 Allah created the first human (Adam) out of dust, then Allah created Adam's offspring out of sperm, then out of leech‑like clot, then out of morsel of flesh, partly‑formed. Allah decides whom to rest in the womb for an appointed term.
This Islamic Voodoo is profound Islamic science, according to today's Islamists.
Ubayy bin Khalaf was a virulent critic of Muhammad's claim of Allah's biology. Ibn Kathir and Jalalyn write that once Ubayy came with a dry bone in his hand to Muhammad. Ubayy was crumbling, and scattering the bone in the air saying, `O Muhammad! Are you claiming that Allah will resurrect this?' Deeply perturbed, Allah quickly sent down verse 36:77. In this verse Allah said that He created man (referring to Ubayy bin Khalaf) from lowly sperm, then how could he have the audacity to oppose Him? As written before, ibn Kathir says that nutfah means something that is insignificant, weak, and has no value, meaning perhaps, that the sperm of which the ilk of Ubayy (a non‑Muslim) were made was of no importance to Allah.
This means that the sperm of unbelievers (non‑Muslims) has no significance to Allah.
On the exegesis of verse 39:68 Ibn Abbas explains that after forty years of the first Trumpet blow, the sky will rain something like men's sperm drops.
The most interesting features of Islamic human embryology are depicted in a few ahadith. Here is a summary of these ahadith.
Sahih Bukhari (1.6.315, 4.54.430) writes that when Islamic sperm enters a woman's womb Allah appoints an angel (male, of course; all Islamic angels are men) to look after the womb. This angel monitors the progress of pregnancy (Sahih Bukhari, 4.55.550). Interestingly, the word 'Ar-Rahm' (womb) derives its name from Ar-Rahman (i.e., one of the names of Allah) (Sahih Bukhari, 8.73.17, 18).
The Islamic growth of a child in a womb is described in this manner: Allah collects constituents for forty days in the form of blood, then it becomes a clot of blood in another forty days; then it becomes a lump of flesh, and forty days later Allah sends an angel with instructions about its 1. livelihood; 2. death; 3. deeds; 4. fortune and misfortune; the provision of hell and paradise is according to destiny is decided by Allah (Sahih Muslim, 33.6390).
Here is further description of Islamic embryology from ahadith:
When the drop of semen remains in the womb for forty or fifty days or forty nights the angels then come

and ask Allah whether it will be good or evil (i.e., Muslim or non—Muslim), whether male or female, its deeds, actions, its death, livelihood………. all these are recorded. This document is the final, and no addition or subtraction is done in it…(Sahih Muslim, 33.6392)

After Allah decides to create anything in a womb, an angel cares the womb after forty nights are over… (Sahih Muslim, 33.6396)

Allah appoints an angel as the caretaker of the womb; the angel monitors and sends information to Allah like: 'now it is a drop of semen, now it is a clot of blood, it is now a lump of flesh…. and so on; Allah gives it a final shape; then the angel asks, 'male or female? Evil person or a good person? Livelihood and his age?' These are all written down as it is in the womb of its mother… (Sahih Muslim, 33.6397)
If we were to make any sensible meaning out of those ahadith, it is clear that in the beginning Allah appoints one angel as a guard of the womb. As pregnancy proceeds Allah sends more angels inside the womb who perform other duties on woman's private parts to make sure the growing baby is according to Allah's desires and fancies. The above ahadith also prove that Allah has already predetermined who are to be Muslims and who are to be non‑Muslims. Nothing can change Allah's decree.
One incredible feature of Islamic biology is that human organs have the ability to speak like a human being. The Qur'an attests this in several verses. Here is a summarised list of a few verses, which tell us that on the resurrection day our organs might turn to be our enemies.
Allah will seal the mouths of the unbelievers, but their hands will speak, and their feet will bear witness (the part of body to speak first will be the right thigh—ibn Kathir)…36:65

The enemies of Allah will be gathered by force to fire; when there, their ears, eyes, and skins will speak against them...41:20

Allah will give speech to skins. The unbelievers will admonish their skins for testifying against them, but the skins will forsooth that Allah has given them the ability to speak against them. (This verse means the Qur'an contains words of human skin—Jalalyn)...41:21

On the resurrection day, tongues, hands, and feet will bear witnesses for slandering a chaste woman (their mouths will be sealed and their hands and feet will testify against them, and they will not be able to hide anything from Allah. This refers to the idolaters—ibn Kathir)…24:24
Our limbs carry Islamic sins. A hadis in Sunaan Nasai says that we can get rid of sins through ablution.
When you perform ablution sins come out of your limbs, you have a new birth…(Sunaan Nasai, 1.149)
Here are a few more gems on Islamic biology:
Urine of a boy is from water and clay; urine of a girl is from flesh and blood…(Sunaan ibn Majah, 1.525)

The lord of the human organ is his heart…. (Ghazali, p.1.29)

Polytheists' dresses are clean but their hearts are impure, so generally, they are impure or unclean. Human mind is the abode of angels. Knowledge means instilling fear of Allah in the mind… (Ghazali, p.1.55)

Allah says the eyes are not blind, but the souls that are in breasts are. He who is blind in the world will also be blind in the hereafter…(Ghazali, p.1.97)

Men's seeding germ is at the back, and the females' at breasts… (Ghazali, p.2.23)

The uterus is the fertile field, and the male and the female organs are the instruments of cultivation…(Ghazali, p.2.23)

Love is disclosed in urine… (Ghazali, p.4.287)

---
Abul Kasem is an Bengali ex-Muslim and academic. He has contributed in Leaving Islam - Apostates Speak Out and Beyond Jihad - Critical Voices from Inside. He has also written extensively on Islam in various websites and is the author of five e-Books: A Complete Guide to Allah, Root of Terrorism ala Islamic Style, Sex and Sexuality in Islam, Who Authored the Quran? and Women in Islam. Mr. Kasem leaves in Sydney, Australia. He can be contacted at abul88@hotmail.com.
---
---
Name: vbv
Date: Monday November 26, 2007
Time: 21:57:34 -0700

Comment
It is a good exposure of islamic superstitions and "voodoos and black-magic". So much for "science" in Quran! It is just a mockery of common sense and sheer blind belief. Muslims have to swallow this humiliatingly after all ,with their beliefs in "jinns,angels,"and now black magic and blind superstitions. They are no better than any "backward" tribal voodoo and idol worshippers!
---
Name:
Date: Tuesday November 27, 2007
Time: 05:26:43 -0700

Comment
NOW THAT THEIR SWORDS HAVE GONE BLUNT AND RUSTY THEY HAVE TAKEN TO NEW METHOD OF ONSLAUGHT TO MAKE HINDUS AND CHRISTIANS BELIEVE THAT THEIR SCRIPTURES HAVE PROPHESIED ALL ABOUT MUHAMMAD AND HIS ACTIONS. ALL THAT DR.NAIK AND THE OTHER MULLA SPEAKS THROUGH 'YOUTUBE'IS NOTHING BUT TRASH. JESUS DID WARN ABOUT FALSE MASSIAHS AND NODOUBT THE SELF DECLARED PROPHET OF MUSLIMS IS THE ONE.
---
Name: Muhammad Teddy, Mullah to Makkah al-Mukarramah
Date: Sunday December 02, 2007
Time: 13:26:57 -0700

Comment
Muhammad was never in the Bible. Like most things owned by Muhammad he stole it all and his followers are still trying to steal from other relegions. Muhammad in the Bible what a fairy tale.
---
Name: hakeem
Date: Monday December 03, 2007
Time: 21:40:16 -0700

Comment
magic is harrom
---
Name: abdul
Date: Tuesday December 04, 2007
Time: 04:00:11 -0700

Comment
fear allah for your wrong doings mr abul kasem those who leave islam.. will have left paradise for the fire of hell
---
Name: jack
Date: Tuesday December 04, 2007
Time: 07:14:46 -0700

Comment
mr kasem, i pray that the GOD of abraham,issac, and jacob would place a wall of fire around you to protect you so you can continue your work in exposing the islamic religion for what it really is. a horde of locust decending on the world to destroy and kill all that get in their way.
---
Name: amber
Date: Monday December 17, 2007
Time: 22:27:15 -0700

Comment
you idiots, how is this all vodoo? before lashing on Islam, take a look at Christianity. You folks believe in angels and devils as well. What is wrong with reciting verses straight out of the Qur'an? You folks recite your own verses. Maybe your just jealous because you idiots can't figure out how to get greater rewards by reciting certain verses from the bible. you folks are a bunch of hypocrites. your priests recite biblical verses on people that are possessed? what is that all of a sudden acceptable and okay? wouldn't that be a form of vodoo as well. you haters are a pathetic bunch that can only dignify your stuff over the internet. your what i like to call ignorant idiots. that's right let the media brain-wash idiots like you into becoming more stupider.
---
Name:
Date: Saturday December 22, 2007
Time: 17:03:45 -0700

Comment
"Most Muslims believe that the manner in which a person, especially an infidel, looks at a Muslim, or at any object he (the Muslim) possesses, or at any food he eats, has an effect (evil) on his personal well‑being. For example, in some Islamic countries, it is widely believed that one should not eat in the presence of a beggar or in front of a starveling person. Because, the penetrating look of the hungry person will lead to stomach cram in you." Just One thing i picked whilst scrolling up to get a quote. Acctually Muslims are taught that you must not eat when there is someone around you hungry. you must offer them food. A famous narrations tells that a true Muslim doesnt eat unless twenty neighbours in every direction have food. HOW CAN AN EVIL RELIGION TEACH SUCH HUMANITY?
---
Name: Open Minded
Date: Saturday December 22, 2007
Time: 17:11:42 -0700

Comment
You wrote: "Islamist apologists often extol the scientific nature of Islam, that Islam has no room for spirituous mumbo—jumbo." Islam is a religion that teaches us science. but more than that it tells of that there are more laws that govern the world than just those that science has uncovered. I call you narrow minded as you doubt everything unless it is proven to you. The opposite end of the scale is naivity, where you belive in everthing straight away. I prefer to be open minded in that i do not doubt nor accept anything unless shown one way or the other. Why is it so hard for you to believe that there exists more within the heavens and the earth and all between than just what you can see? Islam, i prefer to think of, as a religion that combines science as well as everything else that exists. So the Quran provides verses that we may recite for protection or other means such as cures for ailments or help with problems. Why did you not, may i ask, not quote the verse of Quran which says (and it is repeated i believe throughout) that things will and can ONLY happen with the will of Allah (swt)? We can only use His book by His permission.
---
Name: Sameera
Date: Tuesday January 29, 2008
Time: 02:36:22 -0700

Comment
The author of this article definitely seems confused between the duas (prayers) & magic and labels everything as a spell....Suggest you do some research before spreading such falsehood....Doesn't the author know that "little knowledge is a dangerous thing?"
---
Name: shqipe ahmeti
Date: Tuesday January 29, 2008
Time: 09:23:44 -0700

Comment
I`can not get married becous of black magick have to get out of that
---
Name: manar
Date: Thursday February 14, 2008
Time: 01:00:57 -0700

Comment
omg what the hell is all this bullshit....i cant believe they havent closed this website down
---
Name: Waqar
Date: Monday March 17, 2008
Time: 05:02:11 -0700

Comment
ASsalaam, PLS don't mind brother but u shudn't call this "Islamic Voodoo or Black Magick". both of these require invocation of a demon or djinn. There are two kind of magicks ... Black Magick and White Magic(also known as 'Nooraani 'ilm')or in otherwords knowledge of the light. Yes Muslims believe in magick n' who says we dont. Muslims don't practice it bcuz its one of the great sins. cuz instead of relying on God we r asking demonic creatures for help. 2ndly, in America's 1 state only there are probably 50,000 witches or more. Most human sacrifices are made in America to satisfy there diety. Who worship evil spirits n' offcourse suffer the consequences bcuz satan while gives them somethin also takes away somethin. U can see "Interview With an Ex-Vampire" for this reference. "Nooraani Ilm" has no side effects nor we ask for help except from one God Almighty. Most of the "nooraani Ilm" in Quraan is used for healing and knowledgable purpose. It can't be exercised by a normal muslim like me. Its a combination of special verses read at special times to achieve specific results. For example healing of a person possessed by demon/djinn. but the Good thing about Noorani Ilm is that "black magic" has no power over it. otherwise true religions like Islam, Christianity never would have been able to heal a person from demonic possession. PC---> The word "magic" is not the correct word,it is mostly regarded as stage magic. Real word to differentiate it is "magick" with an extra "k" at the end. Thanku!
---
Name: vkg
Date: Thursday March 27, 2008
Time: 05:00:55 -0700

Comment
islam, they belive lots in superstition, islamic pleople should need more wisdom as and when they say that islam is great..but islam itself misguided them..and I am telling you that these people have not understood the real meaning of islam/qaran.. To all muslim people listern carefully..in this terror world you will find only muslim people involvement as they have been misguided by quaran...so please, if you people need a knowledge please refer to good books which gives you a knowledge..knowledge will not come from qaran... After reading good books you people will have a knowlegde of what is good and what is bad and at the same time will stop using a stupid magical things..and will stop terorisom ...it is very bad and sin..in otherwords inviting oneself in hell.
---
Name: Mohammed Osman
Date: Monday April 14, 2008
Time: 06:02:22 -0700

Comment
My sincere adivse to the Author and the site owners. Read the translation of the every verse quoted above don't twist the context of the verses. May Allah guide you from the falsehood.
---
Name: afzal
Date: Saturday April 19, 2008
Time: 18:56:40 -0700

Comment
misguiding people is not the way.most of the people dont know a dam about the relagion and talk big.a muslim is always a muslim.please read some more.use yr brain not yr ass.1st and 2nd worldwar caused death of 40 millions and we muslims became terrorist.shame to all.
---
Name: Muslim
Date: Wednesday April 30, 2008
Time: 19:03:36 -0700

Comment
I am appalled by your interpretation of the Quran and Astaghfirullah, claiming that "Allah does black magic". I hope that none of you muslims take any of this article in truth.The author of this article is very confused about Islam, confusing black magic with dua. But if he has good intentions, may Allah forgive him.
---
Name: Ja
Date: Wednesday April 30, 2008
Time: 19:05:49 -0700

Comment
I certainly feel bad for this author. No one should take the word of a kaffir. This disgusting kaffir is not worthy of having the words of the beautiful Quran uttered from his kaffir mouth.
---
Name: NI
Date: Monday May 05, 2008
Time: 16:39:40 -0700

Comment
There is no doubt about the fact that its people like Abdul Karim who will be punished the most on the day of Judgement. Please change your name, you don't DESERVE keeping the name Abdul which means "servant of God"! This stupid person calls himself a writer and doesn't know the difference bw "Miracle" and "Magic". Allah is capable of doing all good, and its translated in Quran, which is a book of Miracles. Miracle is used for the "good" to "remove" the evil. Read this article again, and you will see this condemned person is hissing on Quran for being wrong about removing evil. Not to forget he is completely wrong about Istakharaa. Maybe his parents needed to teach him the real religion when he was born. But again if he knew the real Islam he wouldn't have converted. Its amazing to see that Allah knows this and is still providing such people with food and shelter. Makes my religion even stronger, and believe in Allah more, and consider Quran as my path of life. Quran is to teach us the "way" of living. Its a cure for life, if only anyone would understand.
---
Name:
Date: Sunday May 18, 2008
Time: 11:30:20 -0700

Comment
you are a sick person! islam is a beautiful religion and people like you want to ruin it
---
Name: Farhaan Kazi
Date: Wednesday May 21, 2008
Time: 14:19:15 -0700

Comment
The Quran itself prohibate black magic. You can see that in Surah Bakar. the integral component of all kind of magic is Shirk that means worship idols, jinn, etc other than Allah. Quran and Islam is against all kind of Shirks. Muslim pray to Allah for help, health, wealth, peace and successful eternal hereafter life. You can not say this as a black magic. Religious people prays for help. Quarn is the Sheefa (That Cure disease, way to ask help from Allah). Isteekhara is not magic. It is kind dua (pray to show path). In Istekhara person recite certain dua shown by prophet Muhammad and then offer salah (Prayer) and Allah show him/her a path. Brother before blamming one should inquired of everything. There are many Bidahs. Bidahs are the rutals done by muslim which are not allowed by Islam rather Islam is against it because such rutals are not shown by prophet muhammad. You can not such a bidhas as black magic. it is just superistions.
---
Name: N/A
Date: Monday May 26, 2008
Time: 09:51:02 -0700

Comment
Abul Kasem is an Bengali ex-Muslim and academic. He has contributed in Leaving Islam - Apostates Speak Out and Beyond Jihad - Critical Voices from Inside. He has also written extensively on Islam in various websites and is the author of five e-Books: A Complete Guide to Allah, Root of Terrorism ala Islamic Style, Sex and Sexuality in Islam, Who Authored the Quran? and Women in Islam. Mr. Kasem leaves in Sydney, Australia. He can be contacted at abul88@hotmail.com.

---
Name: SALAAM ABDOU
Date: Wednesday June 11, 2008
Time: 01:08:18 -0700

Comment
FOR ONE THING, I DO NOT ACCEPT OF FIND IT FUNNY FOR YOUR OPENLY MOCKERY OF ISLAM. IT IS PLAIN FACT THAT YOU LOST IT ALL. MAGIC IS NOT PART OF ISLAM,---WHAT EVER YOU`RE TRYING TO PUT ACROSS IS CALL KIRAAMA (WONDERS OF ISLAM. SO SHALL YOU FIND IN ALL MAJOR RELIGIONS OF THE WORLD. VOODO OCULTISTS USE THE CROSS TO MAKE MAGIC (THE CHRISTIANS DO NOT THINK SO), WHERE AS THE CHRISTIANS USE THE SAME CROSS TO MAKE WONDERS BY ALLAH`S PERMISSION. THE USE THE BIBLE TO CAST OUT DEMONS IN NOT EVEN GOD`S NAME BUT IN JESUS`S NAME AND AGAIN BY ALLAH`S PERMISSION WONDERS HAPPEN. ALLAH IS MY GOD, YOUR GOD, EVERY BODY`S GOD, HE IS THE GOD WHOME JESUS CALL ELLEH ( MY GOD ) AND ELLOHIM (GODS) AND HE IS ONE AND ALONE. SO PLEASE SAY VOODOO, MAGIC, BLACK MAGIC TO WHAT EVER BUT TAKE ISLAM ( PEACE ) OUT OF IT LESS THE ANGER OF ALLAH BE UPON YOU. THE QUR` AN IS REVELATION IN IT IS A HEALING AND BENEFITS TO MANKIND. WA SALAAM
---
Name: Muhammad Shoaib Asad Kahlid
Date: Friday June 20, 2008
Time: 05:18:14 -0700

Comment
DEar great but what i need is effect of black magic on the person whi did, or even his family with live examples
---
Name: Zenub
Date: Saturday June 21, 2008
Time: 11:51:32 -0700

Comment
You dont know what Islam is. You need to learn it before you talk about it. simple as that. ANYONE WHO READ THIS PLEASE DONT BELIEVE ANYTHING WRITTEN IN THE ABOVE ARTICLE. THE GUY WHO WROTE IT IS DEFINITELY ILLITERATE OF RELIGION AND WOLRD !!
---
Name: Muslim
Date: Monday June 23, 2008
Time: 09:52:26 -0700

Comment
'a fly can't get in a closed mouth' meaning keep talking trash and you will see what happens. What would you do if someone says bad thing about your mother or loved ones?
---
Name: Muhammad Usman Azam
Date: Monday June 23, 2008
Time: 13:47:30 -0700

Comment
we all Muslims can actually conclude dat dis man relly was not even able to understand islam and just wrote an article or he intended to make islam,s reputation bad in the eyes of the people; so the non-muslims who red it should ignore it as a request or an advise n all others, i mean my fellow muslims, should not argue within themselves which shows no good impression of our religion. let us all live in peace togather n Allah is the one to punish or forgive Abul Kasem for what he has done thanks alot for your attention
---
Name: Sanaa
Date: Tuesday July 15, 2008
Time: 13:14:33 -0700

Comment
Well, considering that the arabic Qur'an is the word of God, and Allah has prescribed some things as a cure, why not? Just like the Prophet recommended milk for stomach aches, he recommended the Qur'an for other illnesses. What's your point? Remember the Bible and exorcism? Satanism? You'll never find a Muslim satanist anywhere. And BTW BLACK MAGIC IS HARAM IN ISLAM. But you conveniently don't mention that to fool your viewers. If this is where your website viewers get their info on Islam then God help them. Allah rules and you're just jealous.
---