Historic 3,000-strong Christian community of Solepur in Central Bangladesh are threatened by increasing persecution and eviction from the area...
---
Philimona gomes showing how Muslim decoits
broke into their house
Solepur Catholic parish with more than 3000 Catholics in Munshiganj District under Dhaka Division in Bangladesh is blessed with historic St. Joseph's Church established in 1850. As law and order increasingly deteriorate, Catholics in Solepur are coming under frequent attacks, leaving many of them with no option but forced to leave the area.
On April 30, 2009, a group of Muslim dacoits broke into the house of local Catholic Ms. Philimona Gomes of Boraihase village under Solepur Catholic parish.
According to Ms. Gomes, a group of 9–10 people forcefully broke into her house around 2 o'clock at the dead of night. The heavily armed dacoits tied her tightly with ropes, and threatened to kill her if she moved a bit.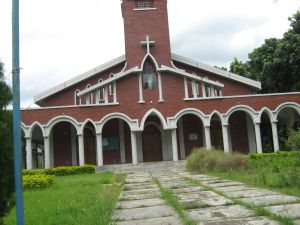 Historic Solepur Catholic Church, rare in Bangladesh.
Its existence is threatened by increasing Muslim
persecution and eviction of Solepur Christians.
"I was shocked and stricken with fear at this sudden attack; they slapped and started kicking me and using vulgar word; I kept praying to mother Mary to save us from this danger," said Philimona Gomes.
"In fear, I got pressure of urine, and the dacoits asked me to urinate before them; but as I refused, one of them took me to the toilet, and forced me to urinate before his eyes," said she.
"As I live with my husband Daniel Gomes, son Richard Gomes and his wife Elizabeth Gomes in the same house, I felt very ashamed to being forced to urinate in front of a stranger like that; I felt sexual harassment," she added.
Richard Gomes said, "The dacoits broke into my room, tried first to attack me with sharp arms, but I got saved by a short distance. They took away gold ornaments and other valuables."
"The dacoits target only Christian villages; this seems to be intended to persecute us in order force us to leave the village," said Richard.
Pavel John Gomes, a local Catholic youth activist, said, "Even during last Christmas, a Muslim gang attacked us, as we stopped them from entering our church during mass to harass the women."
Prokash Rozario, a local Catholic of Solepur said, "On August 15, local Muslim dacoits attacked our house, and looted the valuables. We don't get any help from the police; there is no safety for our life."
"We are small in number and surrounded by Muslims; it is their main target to evict us from our land and grab it."
"The Solepur Catholic parish was attacked by Muslims back during Gulf War (1990–91); we do remember those fearful days: a huge crowd of people came from nearby madrassas (Islamic Schools) and ordered to demolish our church, but God saved us," recalled Pavel Gomes.
"The police were silent. I feel afraid to say anything about the recent persecution of Christians. Many of our people were forced to sell their land to Muslims and leave the village; there are incidents of Muslims grabbing Christian lands. Earlier Muslim youths tried to hijack a Christian girl; we are already cornered by persecution," he added.
Fr. Alvin, priest of the Catholic parish, informed this reporter that during dacoity incidents, he rings the church-bell to alert the local people; he also informed the local government about the persecution.
Recently, a local Muslim, named Swapan, forcefully grabbed the motorcycle of Raju Augustine Rozario on 30th August. Rozario filed a case with the police regarding this, but the motorcycle has not yet been recovered by the police.
"I have clearly identified the person, who grabbed my motorcycle, while filing the case. Yet, none has been arrested," said Rozario.
Human Rights activist Annie Halder said: "We are alarmed that persecution of minorities is increasing in Bangladesh. Government fails in many ways to protect the minorities. The young men and women of minority communities are targeted by Muslim fundamentalists for persecution in order to prevent progression of minorities."